Our mission is to provide English language support to enrolled students at York University. This support aims to cover major language skills, as well as assistance in students' ongoing academic assignments. The ESL OLC has also initiated community-building activities to help students connect and form lasting friendships. 
We are pleased to discuss and suggest effective measures to help you improve your language skills and academic assignments including reading comprehension, academic presentation, vocabulary building, grammar awareness, academic writing, critical thinking and research skills. We are not providing editing or proofreading services, as we believe that helping you identify your strengths and weaknesses in academic tasks, address critical issues to fulfill assignment requirements, produce strong arguments with reliable evidence, develop critical thinking and self-reflective skills will be a lot more important for you to achieve learning, academic, personal, and social success.
We offer FREE English language support for any registered York University student who is currently learning English as a second or additional language in the ESL program or is currently enrolled in academic undergraduate or graduate degree programs at York University.  To get started, please register online (if you are a first-time user) or login to our booking system.
---
Location:
South Ross 311 (Shared reception with the Writing Centre)
COVID Information & Updates:
To response to the unprecedented COVID times, OLC is offering the following online services in the academic year 2020-21:
Assignment Help: to offer constructive feedback to students' academic assignment
Presentation Practice: to offer students a platform to develop their presentation materials and do a rehearsal of their online presentations for comments
ESL Virtual Cafe: to invite students to come and practice their oral communication skills by discussing an interesting/ heated topic OLC facilitators design for the week
Drop-in sessions: to answer quick questions from students, offer them academic advice, and direct them to the right unit for relevant information/ further support
Want to know more about OLC? Please join our virtual OLC Orientation on Sept 17, 1-2pm: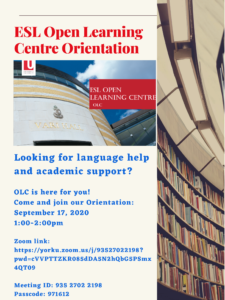 OLC Workshop: Academic Integrity for Academic Success
Having troubles/ questions with academic integrity? We are excited to announce that OLC is going to conduct a workshop with the Learning Commons and York International on Academic Integrity on Feb 3, 11:00am-12:30pm. Please join us for a fruitful discussion and use this link for registration: https://yorku.zoom.us/meeting/register/tJEpc-uhrz0sEtCWKHMwflOJbzqmTYOZDCWH